Key Word: Taili machinery; 2019 end-year party
The year of 2019 has gone away, and 2020 is quietly approaching. On the occasion of the change of the old and the new, Taili Machinery held the annual feast with the theme of Dream Ā· Far Endā€ at the Shuguang Liting Hotel on January 4, 2020. The entire banquet was filled with laughter from the employees, and each employee actively participated in the party, singing and dancing during the performance, and doing their best in the game. The banquet provided a platform for Taili people to show themselves and built a bridge of mutual feelings among colleagues.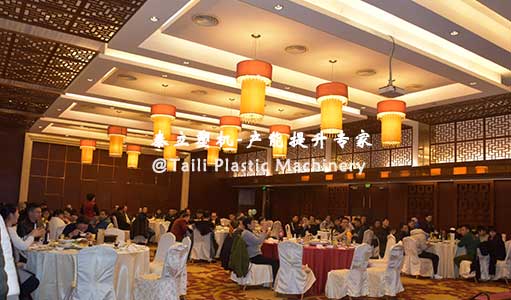 At 17:00 on the evening of January 4, the banquet started on time. First of all, colleagues watched the summary of 2019 and the outlook for 2020 by four employee representatives. Next, President Tang came to the stage to talk about the achievements of Taili Machinery in 2019, and proposed that the output value had improved from the previous year, and thanked all the employees present for their contributions, hoped for higher achievements in 2020. The prosperity of an enterprise is inseparable from the hard work and dedication of each employee, and it is also inseparable from the perseverance of the old employees. On this occasion, President Tang awarded five outstanding employees who have worked hard together since the establishment of the factory. Next, the banquet officially opened.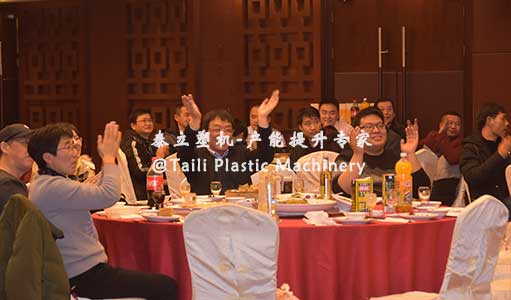 A total of two games were played during the banquet-"Heart has spirits-you perform and I guess", "Distinguish between true and false-guess who got a special drink". During the game, the colleagues actively participated with their little friends, and through the tacit cooperation of many people, they took away a generous prize. The third prize, the second prize, and the first prize were drawn in turn, and the atmosphere was culminated again and again, and the machining workshop finally won the prize.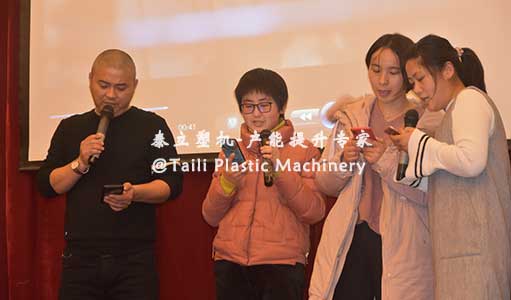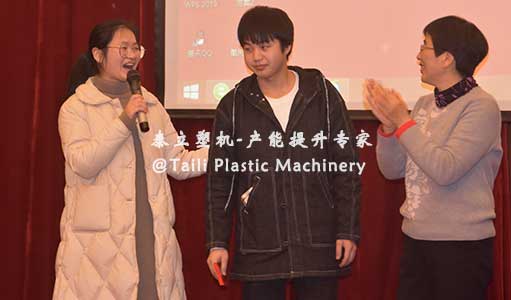 Before the banquet began, each workshop of metalworking, assembly, and machining actively reported programs, including dancing and singing. There were five fixed programs. During the free performance time at the end of the banquet, Taili people also actively participated in, showing their skills. Everyone seemed to become the god of singing, and brought a wonderful visual feast. In the end, the entire chorus "Unity is Power", turning singing into strength, and striving to apply the power of unity to actual production. Together in the new year, we will overcome difficulties, break through ourselves, and work together for the further development of Taili Machinery. With warm applause and cheerful singing, we ended the 2019 annual party. Together look forward to a better next year and a better Taili!